WALES
Starter: CREAM OF LEEK SOUP

Ingredients:

1oz butter

4 rashers streaky bacon, chopped

4 large leeks, chopped

1lb potatoes, peeled and chopped

1½ pints chicken stock

¼ pint milk

Salt and Pepper

2 tablespoons cream

Method:

Melt the butter and soften the bacon and leeks together in a large saucepan and then add the potatoes. Pour on the stock and season to taste. Bring to the boil and simmer for about 30 minutes. When the mixture is soft, rub through a sieve or liquidise in a food processor. Add the milk and cream, re-heat but DO NOT boil and serve garnished with chopped parsley. Croutons or sippets may be served separately.

Main Course: HONEYED WELSH LAMB (OEN CYMREIG MELOG)

Ingredients: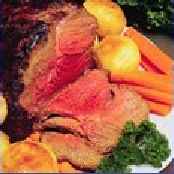 Welsh leg of lamb
6 tablespoons of Welsh honey
Sprig of rosemary
Salt and freshly ground pepper
½ pint cider
Set the oven to 400° F or 200° C or Mark 6.
Method:
Place the lamb on aluminium foil in a roasting tin. Brush with 4 tablespoons of warm honey and season with salt and pepper. Place the sprig of rosemary on top of the joint. Draw up the foil to make a tent and roast for 15 minutes. Lower the heat to 350° F or 175° C or Mark 4 and continue roasting for about 1½ hours until the juices run just pink or longer if preferred well done. Pone up the foil to crisp and brown the skin for the last 20 minutes of cooking time. Remove the lamb from the oven and keep warm. Pour off the fat from the pan and make the gravy from the meat residue, adding half a pint of cider and 2 tablespoons of honey. Reduce to two thirds by boiling. Serve with roast potatoes and green vegetables.
Dessert: GWENT GOOSEBERRY CREAM
Ingredients:
1lb gooseberries
¾ oz caster sugar
8 oz double cream
5 oz plain yoghurt
A few drops of vanilla essence
1 teaspoon of icing sugar
6 dessertspoons demerara sugar
Method:
Poach the gooseberries in a saucepan with the caster sugar, keep them whole by poaching gently. Cool. Spoon the gooseberries in a little juice into 6 ramekin dishes. Beat the yoghurt and cream together until they form soft peaks, fold in the vanilla essence and the icing sugar and spoon the mixture on top of the gooseberries. Sprinkle a dessertspoon of demerara sugar over the top of each ramekin. Cover with cling film and refrigerate for several hours. The sugar forms a nice crunchy topping.
Back to Eva's page