TURKEY
Starter: MENEMEN (Vegetable omelet)

Serves: 4 Cooking time: 20-25 minutes

Ingredients: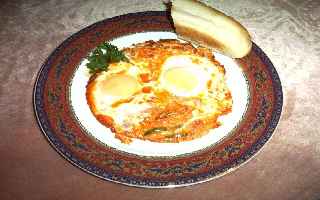 1 sweet green pepper
1 sweet red pepper
¼ cup butter or oil
1 cup chopped, peeled tomates
salt
freshly ground black pepper
6 eggs
½ cup crumbled beyaz peynir or feta cheese
¼ cup chopped parsley
Method:
1. Halve peppers, remove stem, seeds and membrane. Cut into short strips.
2. Heat butter or oil in a large frying pan, add peppers and fry over medium heat. Stir often.
3. Add tomatoes, salt and pepper and bring to the boil. Simmer gently for a few minutes until vegetables are soft.
4. Beat eggs lightly and pour into pan, stir gently into vegetables until creamy.
5. Combine cheese with all but 1 tablespoon parsley, add to eggs and fold in gently. Serve immediately with remaining parsley sprinkled on top.
Main course: SULTAN´S DELIGHT - HÜNKAR BEGENDI
Serves: 6
Ingredients: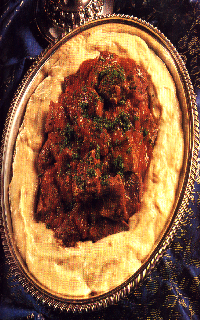 Kebab
· 1 kg lamb, cubed
· 2 tablespoons margerine or butter
· 2 onions, grated
· 2 medium tomatoes
· 1 teaspoon of tomatoe puree
· ½ teaspoon of black pepper
· salt
· 2½ glasses of water
Aubergine Puree:
· 750 gr aubergines
· 21/2 tablespoons flour
· 3 tablespoons butter
· 11/2 glass of milk
· 2 oz of grated cheddar cheese
Method:
Kebab:
Peel and grate the onions. Scoop out the seeds and dice the tomatoes. Saute the onions with the margerine over a moderate heat. Add the diced lamb and saute with onions for 3-4 minutes until golden. Season with black pepper and salt, add the tomatoes and the puree and the water and simmer until the meat is tender. Check occasionally for water and add more if necessary.
Aubergine puree:
Put the butter and flour in a small saucepan, place over moderate heat and saute for 2 minutes making sure that the flour doesn't turn golden and set aside.
Grill the aubergines on gas heat (or under the strong grill) burning the skins. Wrap the aubergines in cling film to make them easier to peel. Peel the burnt skin of the aubergines. Put aubergines in a bowl of cold water with the juice of one lemon to stop them turning brown. After a few minutes drain them and mash them with the flour and blend them well. Place the saucepan on heat, add 1 teaspoon of salt and 11/2 glass of warm milk. Stir ir well until the aubergine mixture becomes a dense paste. Add the grated cheddar and remove from heat. When both the kebab and the puree are ready, place puree on serving dish, put the meat in the middle and decorate with chopped parsley and serve hot with Piaz (bean salad).
PIAZ (Bean salad)
Ingredients: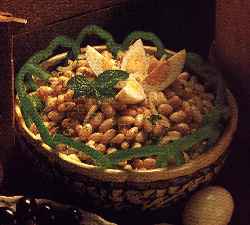 2 tins of haricot beans (drained)
1 large red onion, finely sliced
1 lemon juice
1 tablespoon of white wine vinegar
2 tablespoons of chopped parsley
2 tablespoons of chopped mint
2 tomatoes, deseeded and chopped
2 hard boiled eggs, sliced to decorate
3 tablespoons of olive oil
Method:
Drain the beans, slice onion finely and rub it with a little salt. Mix the beans, onions, chopped tomatoes, chopped parsley and mint in a bowl. Add the vinegar, salt, lemon juice and the olive oil and mix well. Put it in a large dish and decorate with sliced hardboiled eggs and paprika or cayenne pepper.
Dessert: YOGHURT CAKE - YOGURT TATLISI
Oven temperature: 180° C (350° F)
Cooking time : 50 - 55 minutes
Ingredients: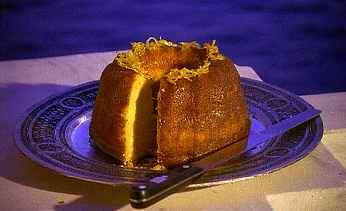 ¾ cup butter
1 cup caster sugar
grated rind of 1 lemon
5 eggs, separated
1 cup yoghurt
2¼ cups plain flour
2 teaspoons baking powder
pinch salt
½ teaspoon bicarbonate of soda
Syrup:
1 cup granulated sugar
¾ cup cold water
thin strip lemon rind
1 tablespoon strained lemon juice
Method:
1. Cream butter, lemon rind and sugar until fluffy, add egg yolks separately, beating well after each addition, then blend in yoghurt.
2. Sift dry ingredients and fold into creamed mixture.
3. Beat egg whites until stiff and fold into batter. Turn into a greased and floured 20 cm (8inch) tube pan.
4. Bake in a moderate oven for 50 - 55 minutes.
5. Meanwhile, make syrup. Combine sugar and water in a pan, stirring over medium heat until dissolved. Bring to the boil, add lemon rind and juice and boil on medium heat, without stirring, for 10 minutes. Remove lemon rind and cool syrup.
6. Cool cake in tin for 5 minutes, then turn onto a serving dish.
7. Spoon cold syrup over cake, letting it seep slowly into cake. Serve warm, cut in thick slices with whipped cream or kaymak.
Back to Eva's page