THAILAND
Starter: SOUR SHRIMP SOUP (TOM YUM GONG)

Ingredients: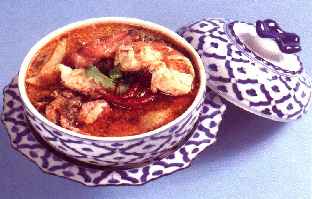 1 kg medium shrimp
¼ kg straw mushroom (or 1 can, drained)
1 stalk lemon grass cut into 2 inches long pieces
2 magrood leaves (fragrant lime leaf)
1 teaspoon salt
2 tablespoons nampla (fish sauce)
3 tablespoons lime (juice)
1 teaspoon chili powder
5-7 red hot chili pounded lightly
coriander sprigs
5 cups water
Method:
Shell the shrimp except the tail. Remove veins. Cut down centre of back but not cutting all the way through.
Trim the base of the mushroom stalks, rinse in cold water, dry well, cut in quarter or half.
Bring the water to a boil. Add lemongrass, magrood leaves. Drop in shrimp and cook for 3 minutes. Add mushrooms and salt.
Remove from heat, season with nampla, lime juice and chili powder.
Spoon into individual serving dishes. Garnish with red hot chili and coriander sprigs. Serve piping hot.
Main course: POOR MAN´S FRIED NOODLES
Ingredients: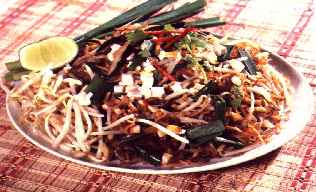 ½ kg Thai noodles
1 cup bean sprouts
5 stalks chives (or spring onions)
1 teaspoon minced garlic
¼ cup oil
2 tablespoons sweet soy sauce
1 teaspoon salt
3-5 red hot chili finely chopped and soaked in 2 tablespoons vinegar
Method:
Soak the Thai noodles in warm water for 15 minutes. Drain, soak half the bean sprouts in water and remove the tails of the remaining half and set aside for garnish. Cut the 5 stalks of chives in half, save the bottom part for garnish and cut the top into 1 inch long strips.
In a wok, heat ¼ cup oil and fry garlic until light brown. Add bean sprouts previously soaked in water. Then add noodles, soy sauce, salt and stir-fry until noodles are brown. Add chopped chives. Turn over a few times. Place into serving plate. Garnish with bean sprouts and chives. Serve with pickled chili.
Note: For special occasions you may add egg and black mushrooms.
Main course: KAENG PHED KAI, KAENG KHIAO WAN KAI (Thai Chicken Curries)
| | |
| --- | --- |
| 5 dried chillies (Kaeng Phed) or | 20 hot chillies (Kaeng Khiao Wan) |
| 1 teaspoon corander root | 5 pepper corns |
| 10 cloves garlic | 1 tablespoons roasted coriander seeds |
| 1 teaspoon sliced galangal | 1 teaspoon roasted cumin seeds |
| 1 tablespoon sliced lemon grass | 1 teaspoon salt |
| ½ teaspoon sliced kaffir lime rind | 1 teaspoon shrimp paste |
For Kaeng Phed use dried chillies; for Kaeng Khiao Wan, fresh hot chillies.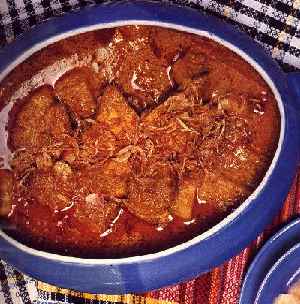 Other ingredients:
| | |
| --- | --- |
| 300 grams chicken | 2 stems of sweet basil (horapha) |
| 250 grams grated coconut | 1½ -2 tablespoons fish sauce |
| 100 grams eggplant (makheua phuang) | 1 tablespoon palm sugar |
| 2 kaffir lime leaves | 1 tablespoon cooking oil |
Preparation:
· Cut chicken into long thin slices.
· Add 2 cups water to coconut and sqeeze out 1 cup coconut cream and 11/2 cups coconut milk.
· Place chilli paste ingredients in a mortar and pound until ground and mixed thoroughly. Fry chilli paste with oil until fragrant, reduce heat, add coconut cream a little at a time, and cook with stirring until coconut cream begins to have an oily sheen.
· Add the chicken and torn kaffir lime leaves and cook a short time, then dip curry into a pot, add the coconut milk and the sugar and fish sauce to taste and heat. When boiling, add the makheua phuang. When the meat is done add the sweet basil and remove from heat.
Pork or beef can be used in place of chicken.
Dessert: Serve nicely prepared fresh fruit as dessert after a Thai meal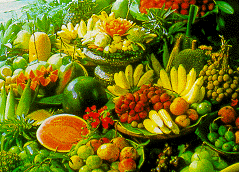 Back to Eva's page