Poland
Starter: POLISH BARZCZC-RED BEET ROOT SOUP

Serves 4

Ingredients: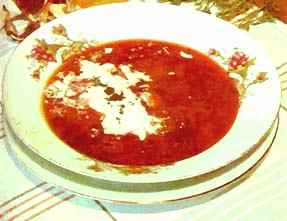 1 1/2 pounds beef chuck, cut up
1 1/2 quarts water
4 medium beets, cooked and sliced
2 celery stalks, diced
1 onion, minced
salt and pepper
1/4 cup dairy sour cream
2 tablespoons all-purpose flour
1 egg
Method:
Put meat in kettle and add water. Bring to boil and simmer, covered, for 1 1/2 - 2 hours, or until meat is almost tender. Add beets, celery, and onion, Cook for about 30 minutes longer. Season to taste. Blend sour cream, flour and egg. Stir into soup, bring again to boil. Serve in soup bowls with uszka.
USZKA - "LITTLE EARS" DUMPLINGS
Pronounced USH-KAH, it is customary to serve these little tortellini-like dumplings with the Christmas Eve barszcz, either floating in the soup, or as a side dish.
Prepare the stuffing:
Ingredients:
· 7oz. mushrooms
· 1 medium-sized onion
· 7oz. Bacon lean rindless smoked
Cook the mushrooms, then cut into very fine pieces, and fry (sauté) in the butter with onion.
Prepare the dough and make the uszka:
· Puff pastry
Roll out into thin layer, cut into 1½ inch (35mm) squares.
Place portions of mushroom mixture into centre, fold over all edges then fold and stick two opposite corners together.
Place on greased baking tray in pre-heated oven at 180°C and cook until crispy brown - usually about 10 minutes.
Main course: ZRAZIKI PO KRAKOWSKU -- POLISH BEEF ROLL-UPS
serves 6
Ingredients: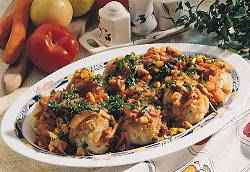 2 lb of top side/silver side of beef
4 oz of dried chopped/sliced mushrooms (2 - 3 hand fulls)
6 slices of lean rindless smoked bacon
4 slices of Italian or German salami
1 onion
1 gherkin preserved in brine (if in vinegar then wash)
1/2 kabanos (from a full length - if titchy thing bought from Tesco etc then full length)
1/4 bottle red wine
2 crushed garlic cloves
plain flour, olive oil and seasoning
small pot of single cream
Special kit:
miniature stainless steel skewers or cocktail sticks for binding beef
Tip:
The dried mushrooms are a must, fresh button mush just don´t have the flavour, try chopping & drying a jar full in advance, the smell and flavour in sauces and soups is easily worth the effort.
Method:
prepare ingredients by
- get butcher to slice beef into 1/4" slices across belly so as to end up with beef burger sized/shaped pieces
- put mushrooms in water 1/2 hr before ready to cook
- then finely chop onions
- cut bacon, salami & gherkin into small squares
- thinly slice kabanos
then
- gently mix 1/2 the mushrooms, onions, bacon, salami, kabanos, garlic & gherkins in a large bowl by hand
- evenly divide and place mixture in centre of beef slices
- roll each slice so that it overlaps generously and bind the overlap only with skewers or cocktail sticks
- roll each parcel on a plate dusted with plain flour and seasoned so that each roll is
cook by
- heat a little olive oil in a very hot frying pan
- place zrazy in pan and fry evenly all over so as to seal outer surfaces
- pre-heat oven to about 180 degrees C
- place fried zrazy in a large casserole dish with a couple of pints of boiled water, the other 1/2 of the mushrooms and beef stock (2 x Oxo will do nicely)
- cover and cook gently for about 11/2 - 2 hr
- remove zrazy and make sauce with remains of casserole dish by placing in pan, adding a very little flour if needed (hardly ever is), wine and cream
You can freeze the contents of the casserole well in advance of a dinner party and make the sauce just before serving with baby new potatoes or roast potatoes, baby peas or runner beans. Traditional Polish cooked horse radish and beetroot with red cabbage in red wine are often served with this.
Dessert: RUM BABA
It´s thought that King Leszczynski of Poland invented the earliest version of this recipe in 1609.
Makes 6 individual or one big cake(s)
Ingredients: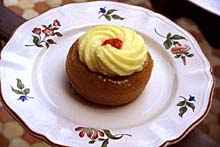 15g compressed yeast
¼ cup plain flour
¼ cup warm milk
¾ cup plain flour, extra
2 tablespoons caster sugar
2 eggs, lightly beaten
60g butter, melted
Rum syrup:
1½ cups caster sugar
1 cup water
2 tablespoons dark rum
Method:
1) Grease mould(s) You can use individual moulds or one bigger cake mould
2) Cream yeast with flour and milk in small bowl; cover, stand in warm place about 10 minutes or until mixture is frothy
3) Sift extra flour and sugar into large bowl, stir in the yeast mixture, eggs and butter; beat about 3 minutes with wooden spoon until batter is smooth. Place batter in large greased bowl, cover; stand in warm place about 40 minutes or until batter has doubled in size.
4) Beat batter again. Divide batter between individual prepared moulds or pour it into the cake mould; stand , uncovered, until batter rises three-quarters of the way up side of mould(s). Place mould(s) on oven tray; bake in moderately hot oven about 15 minutes - longer for big mould. Cover top if beginning to darken too much.
5) Turn Baba(s) onto wire rack over tray, pour hot rum syrup over hot baba(s). Place baba(s) in serving plates; pour syrup from tray over babas until all syrup has been absorbed.
Rum syrup: Combine sugar and water in pan; stir over heat, without boiling, until sugar is dissolved. Bring to boil; boil uncovered, without stirring, 2 minutes. Remove from heat, stir in rum.
Back to Eva's page