Australia
Starter: PUMPKIN AND SAFFRON SOUP

A mellow golden soup fragrant with true saffron. Turmeric is no substitute; look for the saffron threads in the shops.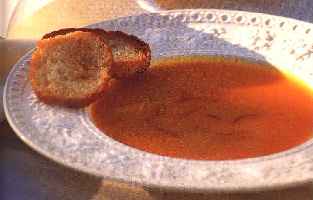 Ingredients:
30 g (1 oz) unsalted (sweet) butter 1 medium onion, chopped
750 g (1½ lb) pumpkin (winter squash) or butternut squash, peeled and cut into cubes
4 cups (1¾ imperial pints) chicken stock
A few strands of saffron, soaked in ¼ cup (2¼ fl oz) warm water
Salt and freshly ground black pepper
Fried croutons or bread
Method: In a large saucepan, melt the butter and gently cook the onion for a few minutes, until softened. Add the pumpkin and cook a further few minutes. Add the chicken stock, bring to the boil, reduce heat and simmer, covered, for 20 minutes. Add the saffron and soaking water for the last 10 minutes of cooking time. In an electric blender or food processor, purée the mixture in batches and return to the pan. Season to taste with salt and freshly ground black pepper, then reheat the soup over low heat, stirring. Serve with fried croutons or bread. Serves 6.

Main course: PARSLEYED RACK OF LAMB
Ingredients: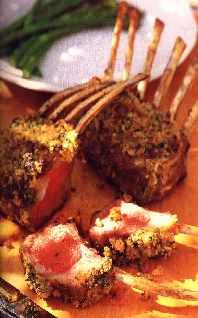 3 small racks of lamb consisting of 4 cutlets each or 2 racks of 5-6 cutlets
1 tablespoon Dijon-style mustard
1-2 tablespoons olive oil
½ cup chopped parsley
½ teaspoon salt
A little white pepper
Rind of 1 lemon
1 tablespoon lemon juice
1½ cups (3 oz) fresh white breadcrumbs
Method: Trim the cutlets (if your butcher has not done so) by cutting away the flesh from the top of the bone and slicing the fat away, leaving about 5 cm (2 in) of bone exposed. Cut off any excess fat. Heta a frying pan (skillet) and sear the meat over a low heat for 4-5 minutes intil golden all over. Leav to cool to room temperature. Spread the fat side with the mustard. Preheat the oven to hot (220°C/450°F). Mix the oil with the parsley, salt, pepper, lemon rind and juice and breadcrumbs. Toss all together lightly. Cover the fat side of the lamb with a thick compact layer of breadcrumb mixture. Place the lamb in a baking dish (roasting pan) and roast for 10 minutes. Remove the lamb from the oven and let it stand several minutes before carving. When lamb is cooked, the juices will run clear. Cut each rack through, allowing a double cutlet per person. Serves 6.

DAMPER
Ingredients:
4 cups (1lb) self-raising flour
2 teaspoons salt
30 g (1oz) butter
1 tablespoon sugar
1½ cups (12 fl oz) water
1 egg yolk
1 tablespoon milk
Method: Preheat the oven to 190°C (375°F/Gas 5) Sift the flour and salt into a bowl. Rub in the butter. Then mix in the sugar. Make a well in the centre of the mixture, pour in the water and, using your hand, mix to a soft dough. Turn out onto a floured surface and knead until smooth. Grease a 6-8 cup casserole dish well with butter (it may be pottery, cast iron or tin). Place the dough in the casserole rounded side up and cut a cross in the top. Beta the eggyolk and milk together, then brush it over the dough; it will give the damper a beautiful golden glaze. Cover with a well greased lid or a buttered piece of aluminium foil. Bake for 45 minutes. Uncover for the last half of the cooking. Leave for a few minutes before turning out of the dish. Serve in thick slices. Dessert: PAVLOVA
Pavlova is said to have been invented by Perth chef bert Sachse in the 1930s. It was so named because it was considered to be as light as the dancer Anna Pavlova.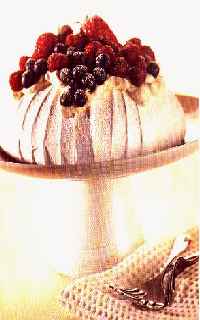 Ingredients:
4 egg whites
1 cup caster sugar
1 tablespoons cornflour
1 teaspoon white vinegar
300 ml carton thickened cream
2 teaspoons vanilla essence
1 tablespoon icing sugar

Method:
1) Cover oven tray with baking paper; mark 18 cm circle on paper.
2) Beat egg whites in small bowl with electric mixer until soft peaks form; gradually add caster sugar, beating until dissolved after additions. Fold in cornflour and vinegar.
3) Spread meringue inside circle on prepared tray. For best results, do not squash or flatten mixture, but shape side up and in towards the centre, like a mound. Make furrows up side of meringue using small spatula, level top.
4) Bake meringue in very slow oven about 1¼ hours or until dry. Turn oven off, leave meringue to cool in the oven with door ajar.
5) An hour before serving, beat cream, essence and sifted icing sugar until soft peaks form. Fill meringue with cream mixture, decorate with fruit of your choice.
SERVES 6 TO 8
Meringue can be made 4 days ahead.
Store in airtight container
Back to Eva's page