SWEDEN
Starter: TOAST SKAGEN

Ingredients: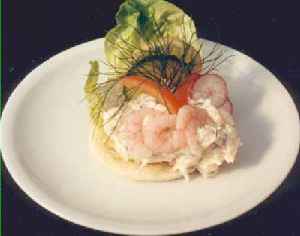 200 g peeled prawns
4 slices of lemon
4 dill sprigs
1 tablespoon Chilli sauce
4 slices white bread, crusts cut off
100 g mayonnaise or Crème Fraiche
1 jar of red caviar
Method:
1. Chop the prawns finely.
2. Mix the mayonnaise, prawns, chilli sauce and some lemon juice.
3. Toast the slices of bread.
4. Put a lettuce leaf on each slice of bread.
5. Put the prawn mayonnaise on the lettuce leaves, and top it with a teaspoon of red caviar.
6. Garnish with a few whole prawns, a slice of lemon and a dill sprig.
Main course: SJÖMANSBIFF - Sailors Stew
Ingredients: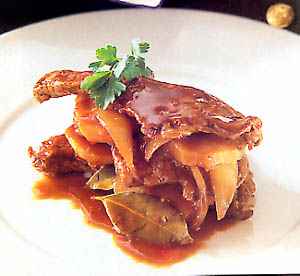 · 600 grams of thick flank, cut in thin slices
· 4 onions, cut into thin slices
· 8-10 potatoes, peeled and cut in rather thick slices
· butter
· bay leaf
· thyme
· salt and white pepper
· 500 ml beef stock, mixed with dark beer or just beer
Method:
1. Brown the onion slices and remove them from the frying-pan.
2. In the same pan brown the meat slices briefly on both sides. Season with salt and white pepper.
3. Add beef stock, beer, bay-leaf and thyme, cover and let the meat cook for 10 minutes in the frying-pan.
4. In a casserole put layers of meat, sliced potato and onion, potatoes forming the bottom and uppermost layer. Sprinkle some salt on each layer of potato slices.
5. Cover with liquid and let the stew simmer in the oven or on the cooker for 45 - 60 minutes (until potatoes are soft). Serve sizzling hot with sliced pickled beet root.
Dessert:CHEESE CAKE
Serves 6 Cooking time 1 hour 15 min
Ingredients: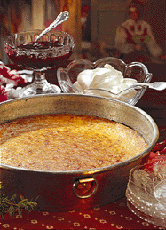 400 g cottage cheese
15 almonds
3 tablespoons flour
100 ml single cream
200 ml milk
3 tablespoons sugar
2 eggs
Method:
Scald and peel the almonds and chop it coarsely. Whisk flour and cream together. Add milk, sugar, eggs and almonds. Then fold in the cottage cheese.
Pour the mix into a greased, quite high baking tin, holding roughly 1 l. Bake in moderate heat in oven for about 1 hour.
Serve the cheesecake warm with strawberry jam and whipped cream.
Back to Eva's page