PHILIPPINES
Starter: CHICKEN SOTANGHON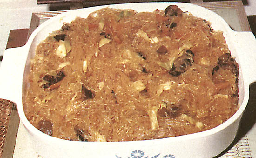 Ingredients:
1 chicken
Onion
2 cloves garlic
2 tablespoons oil
Bunch of spring onions
Tablespoon patis (fish sauce)
½ cup diced mushrooms
¼ kilo sothangon
Achuete
Salt and pepper to taste.
Method:
Boil the chicken until tender. Set the broth aside. Cut the chicken into thin strips. Saute the garlic and onions until brown. Add the finely cut chicken and patis. Simmer, add achuete, the chicken stock and let boil. Add the sotanghon which has been soaked in water and cut into desired lengths. Add mushrooms, salt and pepper and the green (spring) onions. Serve hot.
Main course: FRIED CHICKEN
Ingredients:
1 frying chicken, cut into desired pieces
Chopped garlic
2 tablespoons vinegar
Tablespoon soy sauce - salt and pepper to taste
Method:
Wash and drain the chicken pieces. Mix garlic, vinegar, soy sauce and salt and pepper. Marinate chicken and allow to stand for an hour. Drain chicken pieces and fry on hot fat over moderate heat until brown and tender. Serve hot with rice and stirfried vegetables.
Dessert: LECHE FLAN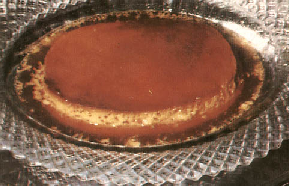 Ingredients:
Custard:
8 egg yolks
2 cups milk
1 cup sugar
1 tablespoon vanilla flavouring
Method:
Scald the milk in a double boiler for 15 minutes. Beat the yolks with sugar, milk and vanilla. Pour into a mould lined with caramelised sugar. Place in a bigger pan half-filled with water and bake until the mixture becomes firm. Cool before removing from the mould. (375° F)
Caramel: 1 cup sugar and 1 cup water.
Method:
Put sugar and water in a saucepan. Caramelise in high heat. Line loaf tin with caramelised sugar. Be sure to line the sides of the pan.
Glossary:

Anatto seeds, commonly known in the Philippines as achuette or achiote, may be bought in 4- or 8-ounce bottles.
Sotanghon - variety of rice noodles (transparent)
Back to Eva's page