ALBANIA
Starter: SUP' ME MISH VICI - VEAL SOUP

Take 1/2 kg (about 18 ounces) of veal from the rear part (near the tail), wash it, cut in pieces, put in cold water and place it to boil. Once it starts boiling add salt, 2-3 carrots, 1 batch of average sized celery, parsley shank, 2 onions cut in fourth. After it has boiled for about 1 hour, add 5-6 peeled potatoes. When the potatoes have boiled well and the meat has softened, take out the vegetables, cut in slices, and cut the meat in small pieces then return to the pot.

The soup is served with thinly cut parsley.

Main course: MUSAKA ME PATATE MUSAKA WITH POTATOES

· 1 kg potatoes
· 400 gr ground meat
· 1 large onion chopped
· 4 eggs
· 3 dl milk
· salt
· pepper
· Oil
Heat oil in a pan. Add onion and cook until it gets golden brown. Add meat, salt and a lot of pepper. Fry it until meat gets brown. Remove the pan from the heat.
Cut potatoes in slices similar as for crisps but not that thin (about 2-3 mm). Put 2 teaspoons of salt in potatoes and mix it well. In casserole put oil, than potatoes until it covers the bottom. Put meat to cover potatoes and than potatoes again. Mix 4 eggs in a bowl, add milk, mix well and than pour over potatoes and meat and put in oven for about 40 minutes or until potato on the top gets brown.
Dessert: BAKLLAVA
For bakllava you need the following: 1/2 kg (about 18 ounces) of ready made rolled dough, 200 g (about 7 ounces) of pressed walnuts, 3 cups of sugar, 2 cups of water and 1 teaspoon of cinnamon.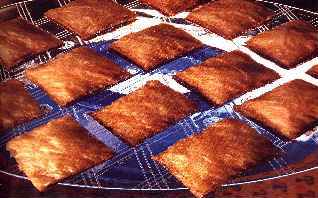 Spread the rolled dough, and sprinkle the walnuts with the cinnamon, then cover it with another layer of dough. Cut the bakllava in equal squares or rhomb shapes. Cover the bakllava with melted butter and leave it to bake in a hot oven. Afterwards, leave it to cool. Prepare the syrup with the water and the sugar, using the amounts given above. Let the syrup boil for 5 minutes. Before removing the syrup from the heat, add the juice of half a lemon. Let the syrup cool for about 5 minutes, then spread it on the bakllava.
Back to Eva's page